Are you in the business of crafting amazing audio-visual events? We've got a backstage pass that will turn your clients' events into unforgettable and inclusive experiences with our comprehensive accessibility solutions!
Prioritizing Event Accessibility
Organizations require platforms that accommodate everyone. Organizations need CollaborateVideo! Our platform is WCAG 2.1 AA compliant with accessibility features that allow for an inclusive experience.
Bringing Everyone Together
Events are for everyone. From closed captioning and sign language interpretation to audio descriptions, we make sure that every single participant can fully immerse themselves in your event. Imagine every detail of your event resonating with every attendee. That's what we aim for!
Blending the Best of Both Worlds
Hybrid events are the name of the game, and we're the reigning champs! Our services are tailored to seamlessly weave accessibility into all event formats. So whether your attendees are in the room with you, joining virtually from across the globe, or a blend of both, everyone gets to experience it.
Pioneering AV Accessibility
Our team of techs has created state-of-the-art solutions that work flawlessly within your AV setup and workflow. CollaborateVideo's platform is designed to ensure that accessibility is a cornerstone of your event's success.
Custom Tailored
Just like no two events are alike, our approach is uniquely customized. We understand that each event has its own goals and content. That's why our team collaborates closely with yours to tailor our accessibility features to your event's needs. Enhance your event's vision with CollaborateVideo!
Empowering Your Team
Offer your clients event experiences that add layers of meaning, connection, and resonance. We know you're not just setting up equipment, you're crafting audio-visual experiences that resonate with everyone! Whether your team is broadcasting an in-person extravaganza, doing a virtual showcase, or hosting a hybrid event, we'll make sure everyone gets a front-row seat.
What Sets CollaborateVideo's Accessibility Solutions Apart:
| | | | | |
| --- | --- | --- | --- | --- |
| Closed Captions | Audio Descriptions | Keyboard Accessibility | User Technologies | Language Options |
| Closed captions and transcripts assist people with hearing loss and those in noisier environments | Provide additional information about visual content for people with blindness or low vision | Shortcut keys enable quick access to specific navigation elements on the webcast platform | Compatible with other assistive technologies like screen readers and voice recognition | Multiple spoken language options |
| Benefits listeners who may not share the same native language as the speaker | | | Ability to switch language, audio preference, and stream quality | Sign language (ASL/QSL) and simultaneous interpretation |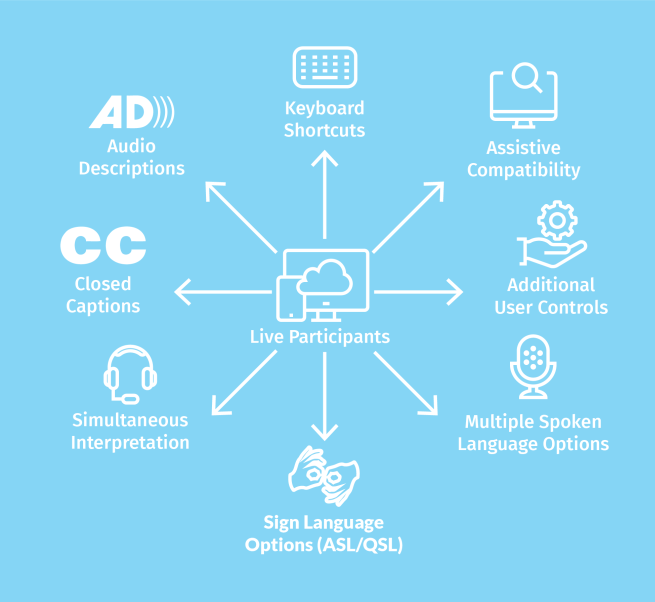 As our digital landscape continues to grow, reaching a wider audience isn't a choice — it's a responsibility. By partnering with CollaborateVideo, you're investing in top-notch technology and inclusivity. So let's not just stream, let's stream forward and redefine the way the world watches.
Want to ensure that your webcasts and virtual events are accessible to everyone? Contact CollaborateVideo today to learn more about our accessibility solutions, perfect for your AV company's webcasts and hybrid events.
Are you ready to take your hybrid events to the next level? At CollaborateVideo, we're not just about events — we're about unforgettable experiences. Partner with us to offer your clients unbeatable hybrid event services. Our solutions empower audio-visual companies to seamlessly integrate our services, providing their clients with a world of flexibility and possibilities!
Why Hybrid Events?
Looking to bring together your in-person and remote audiences? CollaborateVideo's customizable platform will help participants get the most out of your event, no matter where they're located!
Seamless Integration: We're your one-stop shop for all things hybrid. Our seamless integration of in-person and virtual elements ensures that your event remains cohesive and engaging, no matter where your participants are.
Cutting-Edge Technology: Our top-notch content delivery network combined with our platform guarantees crystal-clear communication and immersive experiences. Say goodbye to pixelated faces and laggy audio!
Customization Galore: One size doesn't fit all, and we get that. Our team works closely with you to tailor every aspect of your event, from branding and content to interactive features, to match your unique vision.
Let the Fun Begin!
Picture this: attendees joining in from their couches, boardrooms, or even the beach. A virtual emcee orchestrates the event seamlessly, while in-person participants revel in the electric atmosphere. Your business makes this a reality with our fun and interactive features:
Live Chat: Leverage chat to foster connections and boost participation, adding more interactive and dynamic elements to your event.
Q&A Sessions: Got burning questions? Our live Q&A sessions ensure that both virtual and in-person participants have a chance to interact with speakers and panelists.
Real-time Polls & Surveys: Engage your audience with real-time polls and surveys that bridge the gap between physical and virtual attendees, creating a sense of unity.
What Sets CollaborateVideo's Hybrid Events Apart:
| | | | |
| --- | --- | --- | --- |
| Customizations | Cost Effectiveness | Greater Engagement | Reporting |
| Our white label platform and event branded websites mean your client's brand (and yours!) are front and centre | Hybrid events are more cost effective than traditional events and allow for increased attendance | Hybrid webcasts include interactive features made available to both the in-person and virtual attendees | Access real-time statistics as well as an in-depth event summary report |
| Hybrid webcast events provide attendees with more options to participate, catering to preferences, circumstances, and needs | Whether there's 500 or 5,000 participants, our pricing is based on the length of your event NOT the number of viewers | We can integrate third-party tools and apps your clients are already familiar with using, providing a cohesive engagement experience | Use participation metrics as insights to continuously optimize event formats and content |
Gone are the days of being constrained by physical locations, so say hello to the future! Hybrid gatherings seamlessly blend the best of both in-person and virtual experiences. Whether your audience is across the globe or just around the corner, our hybrid event services bridge that gap, enhance engagement, and ensure that no one misses out on the action.
Ready to dive into the dynamic world of hybrid events? With CollaborateVideo by your side, you're not just hosting an event — you're creating an experience! Get in touch with us today to learn more about our hybrid event solutions.
In today's fast-paced world, successful events require more than just a physical presence. Whether it's a corporate seminar, town hall meeting, product launch, or industry conference, the power and reach of webcasting are undeniable. Not all webcasting solutions are created equal though, so here's why CollaborateVideo should be your go-to partner!
Empowering Your Vision & Brand
At CollaborateVideo, we're not just another webcasting service provider. We are your partner in delivering exceptional virtual experiences!
Tailored Experience
You and your clients deserve to shine! Our solutions allow you to customize every aspect of the event website and live streaming player, ensuring that the visual identity and messaging align with your brand guidelines. From colour schemes to graphics, every detail is meticulously designed to resonate with your audience.
Comprehensive Event Setup
Hosting an event involves intricate planning. Our services simplify the process with an integrated online registration system for a seamless experience. Pre-event testing and real-time technical support ensure smooth streaming, leaving you free to focus on content delivery.
Engagement That Counts
Our platform boasts a suite of interactive engagement features such as live chat, Q&A sessions, polling, voting, and surveys to keep your audience engaged. Let voices be heard and foster meaningful interactions, all while collecting valuable insights for future improvements. Our platform also allows you to seamlessly integrate third-party applications, providing your audience with the tools they already use!
Unmatched Accessibility
Accessibility is at the core of any successful event. That's why our webcasting solutions are designed with accessibility in mind. Closed captions, simultaneous interpretation, as well as sign language options make your content comprehensible to a wider audience. Our player is WCAG 2.1 AA certified, ensuring that everyone can engage effortlessly.
Detailed Analytics
Producing and delivering a client's event isn't just about the content. Our reporting provides in-depth insights, from registration data to audience demographics and engagement stats. Measure attendance, viewership, and the impact of accessibility features, empowering you to refine your strategies for future events.
What Sets CollaborateVideo's Webcasting Apart:
| | | |
| --- | --- | --- |
| Feature-rich event setups and experiences include: | Webcast delivery supported by Akamai's content distribution network capable of: | Customized content and event analytics in addition to: |
| Branded website creation | Unlimited webcast participants | Selectable language, video, and audio settings |
| Attendee registration | Hybrid event designs with venue-based streams | Participant navigation & engagement options |
| Secure access and authentication | Adaptive bitrate streams with fail-safe redundancy | Real-time event support |
| Language and accessibility configuration | Internal network distribution | Advanced analytics reporting (real-time and post-event) |
| Audience engagement options | | |
From customizable branding to cutting-edge accessibility features and insightful analytics, our webcasting solutions empower you to create events that resonate with your clients and their audiences in powerful ways. Create an experience tailored to your client's specific needs with CollaborateVideo!
Every event is unique, so say goodbye to cookie-cutter webcasts. At CollaborateVideo, we offer maximum flexibility with our intuitive and user-friendly platform! Contact us today to learn more about our accessible, engaging, and impactful webcasting solutions.