Hybrid Events
Looking to bring together your in-person and remote audiences? CollaborateVideo's customizable platform will help participants get the most out of your event, no matter where they're located!
Hybrid webcast events are becoming increasingly more popular in today's busy world. Organizations need a robust and reliable hybrid event platform with measurable benefits.
Increased Attendance
Hybrid events allow individuals to participate in-person and virtually, increasing overall attendance
By eliminating barriers like cost and distance, more people are likely to join
Flexibility
Hybrid webcast events provide attendees with with more options to participate
Your event can cater to people's preferences, circumstances, and needs
Cost Effectiveness
Hybrid events can be more cost-effective than traditional events
Virtual attendees do not incur travel or accommodation expenses
Greater Engagement
Hybrid webcasts include interactive features made available to both the in-person and virtual attendees
Online technologies provide more ways for participants to engage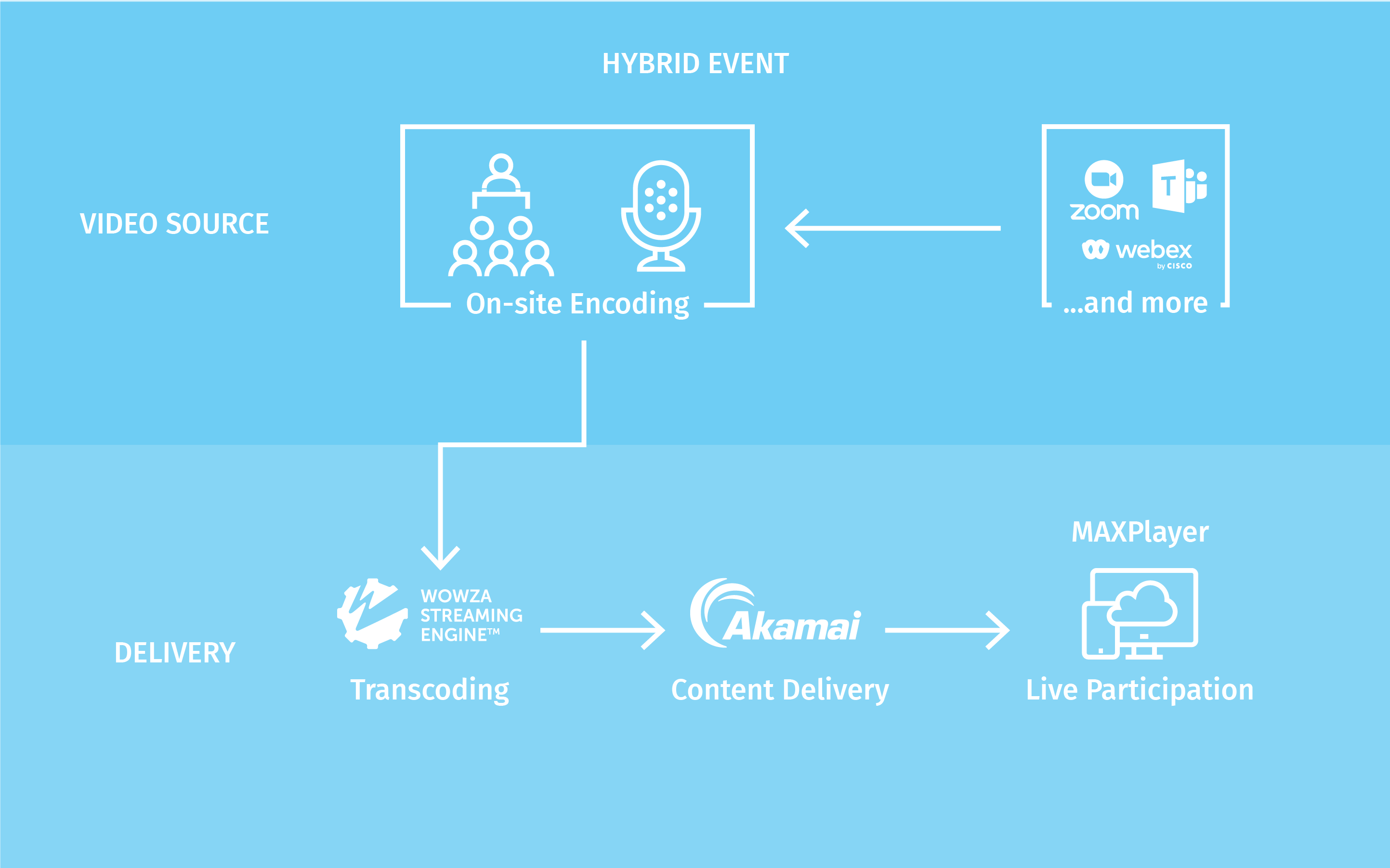 With over 25 years of webcasting experience, we've worked with a broad range of clients and in various settings. We use proven processes and trusted technologies to minimize risk and know how to tackle situations when they arise. Services are available in English, French, Spanish, and other languages upon request.
CollaborateVideo's Platform
Client and event branded website
Advance or same-day registration with controlled access and two-factor authentication
Configured features including:

Q&A, chat, polling, and voting
Real-time captions
ASL and LSQ (in separate window)
Resources (links to documents and websites)
Simultaneous interpretation

Live technical support services for:

Closed captioning (EN/FR)
Event producer
Remote participants
Analytics reporting

Strictly streaming services (to third-party platforms only)
Post-production services including:

Audio and video editing
Closed captioning
Transcription
Archive packaging
Hosting
Consulting & Support Services
We work with enterprises to establish their own webcasting infrastructure in support of enterprise-level collaboration and hybrid training
Requirements definition based on the objectives, available resources, and restraints
We develop and present the vision with stakeholders for consensus
Based on the requirements, we formulate video distribution system design options with estimated costs for approval
Our project management and technical expertise teams work with the enterprise implementation team to procure, install and support the system's configuration
Using software tools, we fully test the implementation against the defined requirements as well as additional stress testing
Ongoing technical support with diagnostics and troubleshooting
Feature requests and custom builds
Contact us to discuss your hybrid event requirements!