Webcasting
Are your live webcast events becoming too complex to manage? CollaborateVideo's platform will relieve your stress and deliver an easy-to-use webcasting experience!
Our comprehensive webcasting solutions are perfect for internal and external organizational events like AGMs, town halls, and conferences. Whether you're launching a new product, delivering a shareholder presentation, or hosting a webinar, our customizable platform has you covered.
Perfect for creating feature-rich virtual event experiences that include:
Branded website creation
Attendee registration
Secure access and authentication
Language and accessibility configuration
Audience engagement options
Supported by Akamai's content distribution network making it capable of:
Unlimited webcast participants
Hybrid event designs with a venue-based stream
Adaptive bitrate streams with fail-safe redundancy
Internal network distribution
Customize your content and analyze the end-user experience with:
Selectable language, video, and audio settings
Participant navigation and engagement options
Real-time event support
Advanced analytics reporting (real-time and post-event)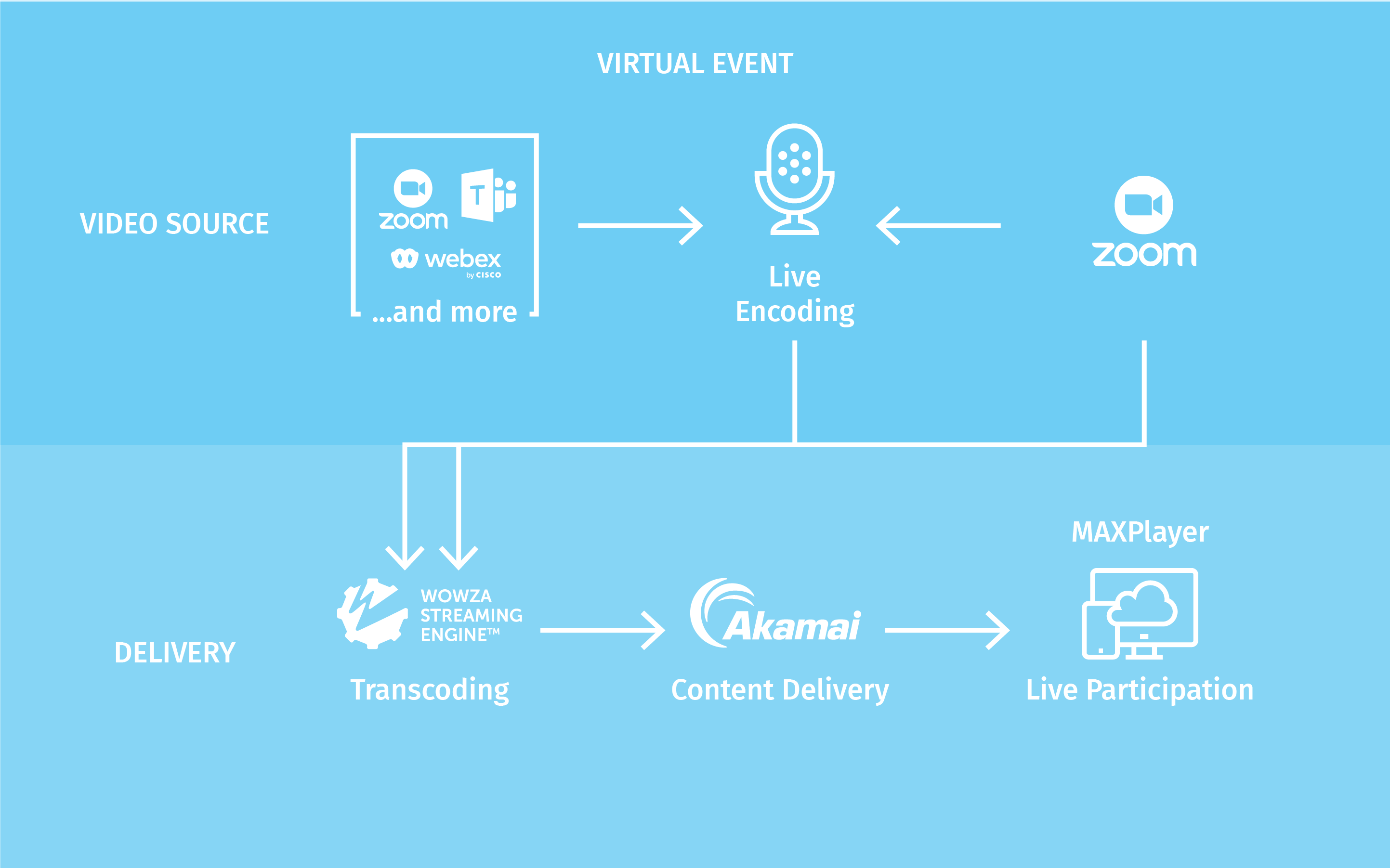 Event Setup
CollaborateVideo delivers a branded, secure and accessible webcast event ecosystem.
Website Creation
Integration of branded client-supplied graphics or artwork generated by our team
Event description, agenda, speaker biographies, and links to related websites
Attendee Registration
User-definable registration information

Registration links, event agendas, and other important attendee information in one convenient location
Access Control
Password controlled access
Access control through designated websites (referral domains) and IP networks
2-factor verification process
Customizations
Single or multiple languages
Video formats and audio options
WCAG 2.1 AA certified accessibility features
Audience engagement tools with third-party integration options
Webcast Delivery
CollaborateVideo provides a robust and reliable webcast platform that is heavily customizable.
Unlimited Viewers
There is no practical limit to the number of webcast participants
Leverages Akamai's content distribution network (CDN) of more than 365,000 servers
Hybrid Events
Our broadcast head-end servers receive incoming streams from venue-based encoders
The streams are converted to a universal protocol and multiple varying bitrate streams are pushed out for end-user access
Streaming Reliability
Monitors available bandwidth and switches between streams for an optimized viewer experience
Servers are teamed for fail-over with different physical and internet access locations
Internal network distribution
Compatible stream will be sourced for viewers with video caching appliances
Local stream will be sourced for viewers within an enterprise with its own video distribution system
Content & Analysis
CollaborateVideo delivers an engaging content experience with an advanced analytics reporting system for user insights.
General Features
Compatible with all common browsers and smart devices
Customizable graphics and interface
Multiple language, video, and audio selectable settings (including simultaneous interpretation)
Navigation & Engagements
Viewers to select features
Ability for multiple breakout rooms
Integration of third-party web apps
Chat, polling, and Q&A capabilities
Live Support
Dedicated resources area with access to archived topics
Table of shortcut keys
Access to real-time support staff through the Helpdesk
Advanced Reporting
Real-time and summary reports on viewership by language, audio, and accessibility feature
Stats on attendance, peak and average viewership, as well as engagement
Data collected at 5-minute intervals with viewer groupings by watch time
Contact us to discuss your webcasting requirements!