CollaborateVideo's Hybrid Success Formula
September 22 2023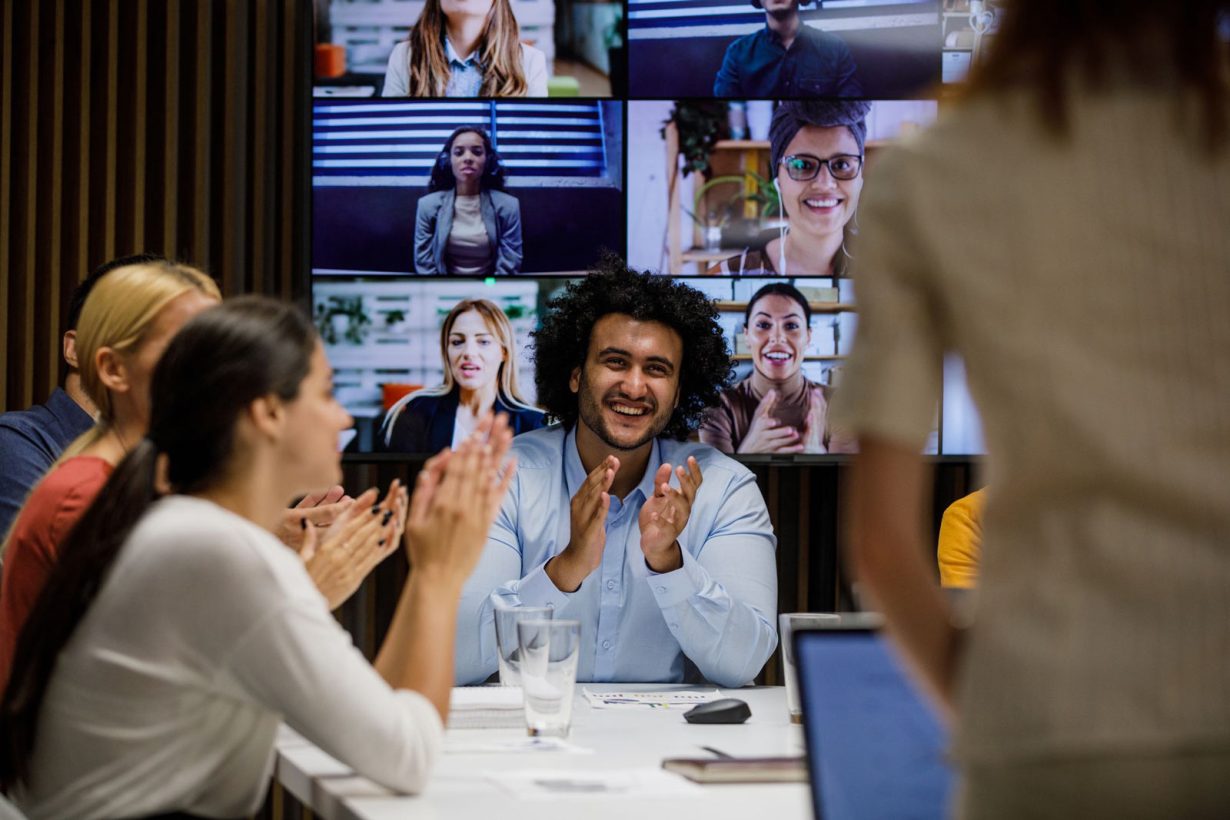 Looking to bring together your in-person and remote audiences? CollaborateVideo's customizable platform will help participants get the most out of your event, no matter where they're located! Our tailored hybrid event services offer remarkable benefits that will take your pertinent public sector communications events to the next level.
The Power of Hybrid Events
Hybrid events seamlessly blend the best of both physical and virtual worlds. They empower you to reach a broader audience while preserving the essence of in-person connections. Here are some key advantages to going hybrid…
Enhanced Accessibility: With a hybrid event, you can engage participants from every corner of the country, promoting inclusivity and equal access to important information. This is particularly vital for government agencies with distributed teams and far-reaching projects.
Budget Efficiency: Incorporating virtual components into your events can lead to substantial cost savings, allowing you to allocate resources to where they matter most. This is especially advantageous for government agencies aiming to optimize their budgets while delivering impactful events that achieve their goals.
Training & Development: Government employees are constantly updating their skills and knowledge. Our webcasting services enable agencies to deliver training programs and workshops online.
Flexibility for All: Hybrid events provide attendees with the flexibility to choose how they participate, whether in-person or virtually. This inclusivity (in combination with our full suite of accessibility features) ensures higher engagement rates and a more dynamic event experience.
Data-Driven Insights: Hybrid events offer a treasure trove of data and analytics, enabling agencies to gauge the impact of their events, gather invaluable feedback, and make well-informed decisions for future initiatives.
CollaborateVideo's Hybrid Event Solutions
So, how can CollaborateVideo help you harness the potential of hybrid events?
Custom Tailored Solutions
We understand that every event is unique. That's why we work closely with government agencies to craft hybrid event services that align with their specific objectives and requirements. Whether you're organizing a town hall meeting, a policy announcement, or a training session, we have the tools and expertise to make it an outstanding success.
Engagement Focused Features
To encourage active participation and interaction, our platform offers a range of engagement tools, such as live chat, real-time polling, Q&A sessions, and can link to multiple breakout rooms. These features enable participants to engage deeply with content and connect with fellow attendees, mirroring the vibrancy of in-person gatherings.
Accessibility & Inclusivity
CollaborateVideo is dedicated to ensuring that your events are accessible to all. Our WCAG 2.1 AA compliant platform provides closed captioning, sign language interpretation, bilingual/multi-lingual options, and other accessibility features to include and accommodate all audiences.
Comprehensive Insights
Following your event, we furnish you with comprehensive analytics reports that shed light on attendee behaviour, engagement levels, and other pivotal data points. Get a granular view of participation and other insightful performance trends that empower you to refine your event strategies and content for future iterations.
Our Collaborative Hybrid Events
Hybrid webcast events are becoming increasingly popular in today's busy world. Organizations in the public sector need a robust and reliable hybrid event platform with measurable benefits. At CollaborateVideo, we're committed to helping Government of Canada clients like you take your events to the next level.
Our hybrid event services provide a bridge between the physical and virtual worlds allowing you to reach and engage wider audiences, making a lasting impact. CollaborateVideo offers the opportunity to combine the best of both worlds and maximize effectiveness.
If you're eager to take your hybrid events to new heights, let's collaborate! Contact us today to learn more about our accessible, engaging, and impactful webcasting solutions.