Accessible Webcasting Solutions? Think CollaborateVideo!
September 29 2023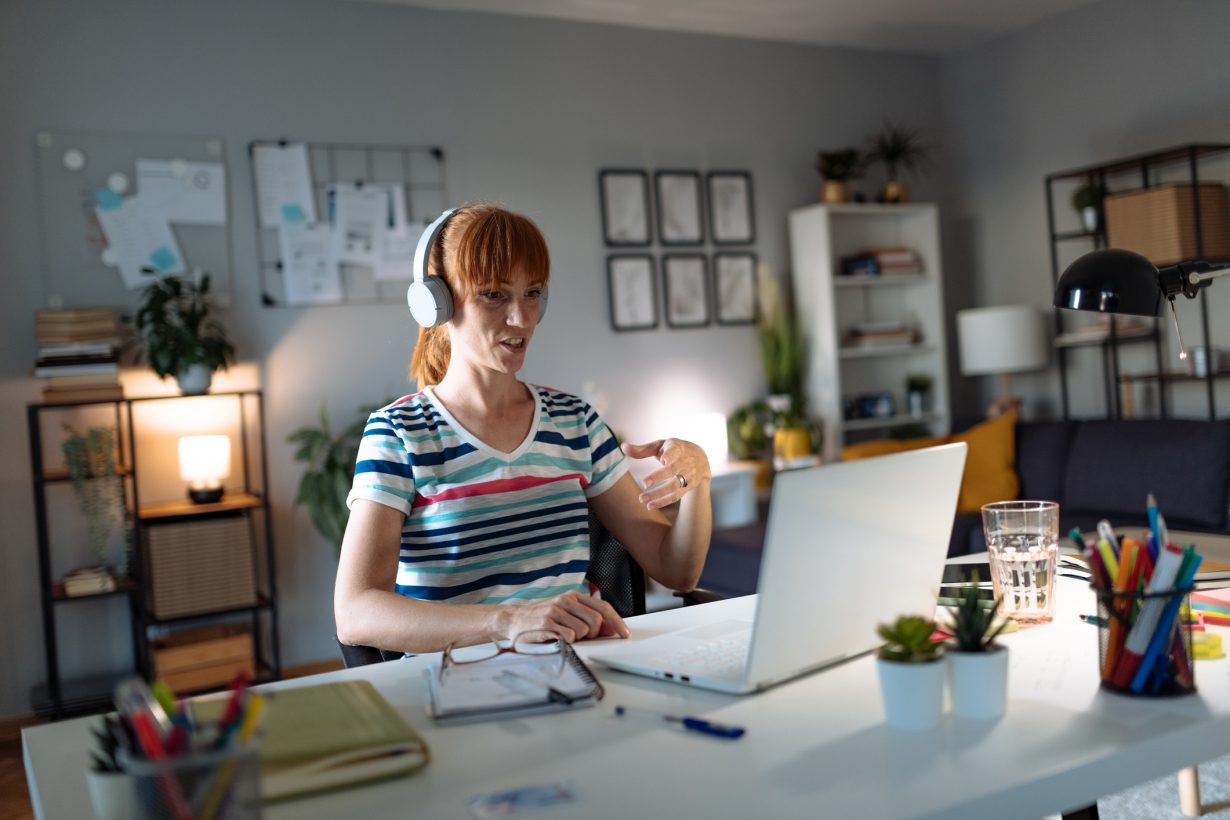 Want to ensure that your webcasts and virtual events are accessible to everyone? Incorporating accessibility features makes your virtual events accessible to a wider range of individuals. Organizations require platforms that include and accommodate everyone, organizations need CollaborateVideo!
Why CollaborateVideo's Solutions?
Accessibility at the Core
Accessibility isn't an afterthought, it's at the core of digital solutions. We firmly believe in webcasting for all and that virtual and hybrid events need to be inclusive so that everyone can access and engage with content. As we continue to develop our Canadian, WCAG 2.1 AA compliant platform and support more events, we help make this mission a reality!
Our platform offers a range of accessibility features, including closed captioning, sign language interpretation, and screen reader compatibility. These features ensure that your webcasts are inclusive and meet the highest accessibility standards. Add in numerous engagement features like Q&A, chat, polling, etc. and let collaboration thrive.
Years of Government of Canada Experience
CollaborateVideo has been at the forefront of webcasting technology and providing services to the federal government for over 20 years. We understand the unique needs and requirements of Government of Canada clients and our custom-tailored solutions align perfectly with the goals and values of public sector organizations, working within organizational network infrastructures.
With over two decades of experience working alongside federal government agencies, we have honed our expertise to a fine point. This means that we not only understand the intricacies of the government sector but also know how to navigate them effectively, ensuring a smooth and efficient webcasting experience.
Multiple Features for Multiple Languages
Canada is a diverse nation with a commitment to bilingualism and multiculturalism. This diversity is reflected in the languages spoken across the country. CollaborateVideo recognizes the importance of ensuring that your webcasts are accessible to all, regardless of their language preferences.
Our platform is not just bilingual; it's multilingual. We go beyond the official languages to cater to the needs of your audience. Whether your content needs to be delivered in English, French, or any other language, we have you covered. Our seamless multilingual support allows you to connect with a broader and more diverse audience, strengthening your message's impact.
Reliability You Can Trust
When it comes to webcasting, reliability is non-negotiable. Government events often involve high-stakes information dissemination and technical glitches can't be allowed to disrupt the flow. CollaborateVideo understands the importance of a robust and reliable platform, and we've invested heavily in making sure our technology is up to the task.
With our platform, enjoy peace of mind knowing that your webcasts will run smoothly, without hiccups, adapting and optimizing based on contributing network and viewer variables. We handle the behind-the-scenes, ensuring that your event goes off without a hitch. This leaves you free to focus on the content and engagement while we take care of the technical intricacies.
A Simplified, Worry-Free Setup
Government professionals are busy individuals with numerous responsibilities. The last thing you need is a complex and time-consuming setup process for your webcasts. CollaborateVideo takes pride in simplifying the entire process. With our platform, you don't need to be a technical expert.
We do the heavy lifting for you, from setting up the branded event website, registration with controlled access and two-factor authentication, configured accessibility and engagement features, streaming infrastructure, as well as a host of ad hoc consulting and support services. Focus on your content and we'll ensure that it reaches your audience!
Empowering the Government of Canada
In a country as vast and diverse as Canada, effective communication necessitates far-reaching and dependable solutions. CollaborateVideo is dedicated to empowering our public sector clients with accessible, multilingual, and reliable webcasting solutions.
Our experience working with the federal government has given us unique insights. We've used this knowledge to craft a webcasting platform that meets these specific needs, allowing for more inclusive and effective webcasting events than ever before.
| | | | | |
| --- | --- | --- | --- | --- |
| Closed Captions | Audio Descriptions | Keyboard Accessibility | User Technologies | Language Options |
| Closed captions and transcripts assist people with hearing loss and participants in noisier environments | Audio descriptions provide additional information about the visual content for people with blindness or low vision | Shortcut keys enable quick access to specific navigation elements of the webcast platform | Compatible with other assistive technologies like screen readers and voice recognition | Multiple spoken language options |
| Benefits listeners who may not share the same native language as the speaker | | | Ability to switch language, audio preference, and video stream quality during a live broadcast | Sign language options (ASL/QSL) and simultaneous interpretation |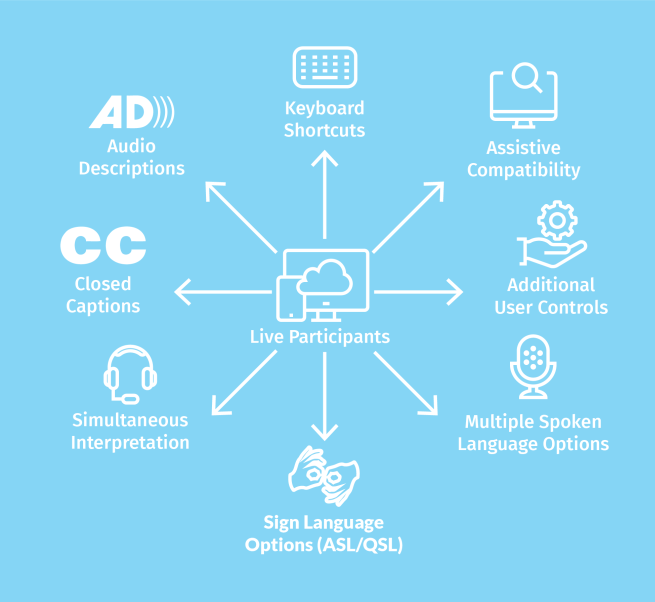 More Than Just a Webcasting Company
CollaborateVideo is a Canadian company dedicated to helping our public sector clients succeed in their communication needs. With dispersed teams across the country, different departments and office locations, as well as hybrid work policies, accessible webcasts are more critical than ever.
Our multilingual platform, decades of reliable experience, and simplified setup process make us the ideal partner for your accessible webcasting needs. Let's work together to make virtual and hybrid events impactful. Contact us today to experience the CollaborateVideo difference!